WHITE CLIFFS COUNTRY NEWSLETTER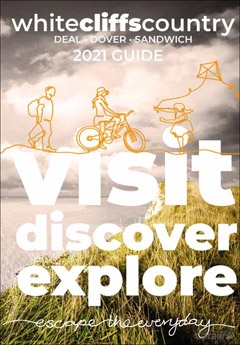 (Rating 4.2/5.0 from 225 members)
Where beauty meets history and England meets the Continent
Welcome to White Cliffs Country – for Dover, Deal and Sandwich.
Experience – chalk & cheese
It's as different here from other destinations as chalk and cheese, even their weather picks up Continental influences...
Discover – time and tide
So much to see... magical castles just a pebble's throw from the sea and don't miss Dover Museum with an amazing Bronze Age boat...
Relax – light and shade
Enjoy their laid–back lifestyle – slip on your favourite sweater and walk the chalk, skylarks overhead, salt spray on your cheeks...
Energise
Exhilarating, exciting activities are based throughout the beautiful unspoilt coast and countryside of White Cliffs Country...