VISIT PORTSMOUTH BROCHURE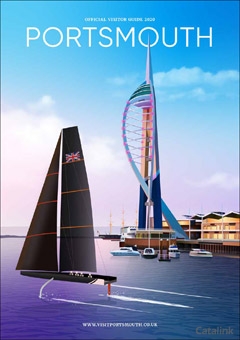 (Rating 4.4/5.0 from 420 members)
Home to world-class attractions, spectacular events, a great creative and cultural offer, plus fabulous places to eat, drink and stay, Portsmouth is the top destination choice on the south coast.
Explore Portsmouth Historic Dockyard including the historic ships Mary Rose, HMS Victory, HMS Warrior 1860 and M.33 along with the National Museum of the Royal Navy.
Enjoy the breath-taking panoramic views from the iconic Emirates Spinnaker Tower then visit Gunwharf Quays to shop at over 90 premium designer outlets and eat at one of 30 cosmopolitan bars and restaurants.
Southsea has something for everyone, from unique independent shops, boutiques and restaurants, to wide-open spaces and seafront attractions. Don'' miss the D-Day Story museum and nearby Henry VIII's Southsea Castle.
With its narrow cobbled streets and historic fortifications, bustling Camber Dock, Hotwalls Studios, traditional pubs, restaurants, and local fish market, Old Portsmouth is the perfect place for a stroll.
For literary fans, Portsmouth is both the birthplace of Charles Dickens (open as a museum) and the location where Sherlock Holmes was created - find out more at Portsmouth Museum.
New for 2020 From 4 - 7 June the Emirates America's Cup World Series will see world-class sailing competition return to the city. Come and enjoy a great day out in Portsmouth and witness four days of action-packed entertainment both on and off the water.
In 2020 the Landing Craft Tank LCT 7074 will arrive on Southsea Seafront alongside The D-Day Story museum, the sole surviving Landing Craft (Tank) from D-Day. Later in the year, this amazing craft will be available to visit as part of the museum's offer.
Order the Visit Portsmouth visitor brochure today to find out more and book your next visit!