2020 WILTSHIRE VISITOR MAP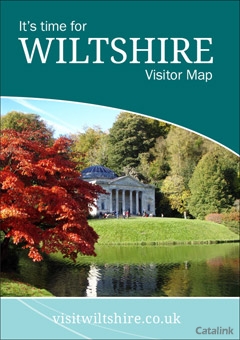 (Rating 4.2/5.0 from 18 members)
Wiltshire: The Home of Timeless Experiences
No visit to Wiltshire would be complete without experiencing the magic of Stonehenge and Avebury and the medieval masterpiece of Salisbury Cathedral. In 2020, the Cathedral and city celebrate the 800th anniversary of the Cathedral's move from Old Sarum to its present-day site with a year of special events. Highlights include Sarum Lights – an immersive light and sound show; a major contemporary art exhibition; and a stunning festival of flowers. Elsewhere around the county, you'll find enchanting stately homes and gardens. Fascinating industrial heritage. Horse and motor racing, animal attractions, and museums showcasing collections of national importance.
Our cafés, tea rooms, pubs and restaurants serve delicious local food and drink. Fabulous shopping opportunities range from familiar high street names, independent retailers and markets to a first-rate designer outlet and a popular shopping village. Entertainment covers carnivals, fairs and folk festivals. Theatre, comedy and dance. Classical, jazz and world music. Plus writing and reading, talks and tours, history, philosophy and more.
Almost half of Wiltshire's breathtaking landscape falls within an Area of Outstanding Natural Beauty. So make the most of the great outdoors with a day's fishing or a round of golf. A canoe trip or a horseback safari. Try a hot air balloon flight, a tandem skydive or an off-road driving experience. Relax in a luxurious spa or hone your culinary skills on a cookery course. Turn your hand to go-karting, live escape games and laser combat. Team up with a local guide to hear tales of myth and legend.
Launched in 2018, the Great West Way® is an exciting touring route between London and Bristol, where extraordinary history rubs shoulders with everyday life. Around a quarter of the route runs through the breathtaking landscape of Wiltshire. Over rolling chalk hills. Along lush river valleys. Past picturesque towns and villages. This is England undiluted; England concentrated.
So visit Wiltshire in 2020 and discover an essential strand of England's story.
Download a digital copy of the Wiltshire 2020 Visitor Map to find all the inspiration you need for an unforgettable day out.