2020 TIME FOR WILTSHIRE VISITOR GUIDE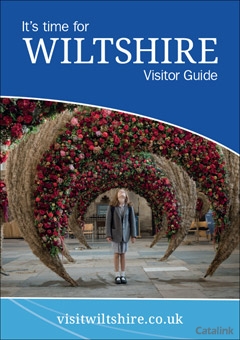 (Rating 4.1/5.0 from 993 members)
Visit Wiltshire
Discover Timeless
From the prehistoric wonders of Stonehenge and Avebury, through Roman, Norman and Saxon times right up to the present day, Wiltshire has a wealth of timeless places waiting to be discovered. Iron Age hillforts and castle ruins. Grand historic houses and breathtaking gardens. Fascinating industrial heritage and a wide range of modern-day attractions, from motor and horse racing to the first Safari Park outside of Africa.
In 2020, Salisbury Cathedral and the city of Salisbury mark the 800th anniversary of the Cathedral's audacious move from Old Sarum to its present site with a year of celebrations. Highlights include Sarum Lights, an immersive light and sound show; Spirit and Endeavour, a major art exhibition; and Confluence: a Festival of Flowers.
Since its launch in 2018 the Great West Way® has gone from strength to strength. For those who want to explore further and delve deeper, this exciting touring route between London and Bristol takes you from the world-famous to the yet-to-be-discovered, offering an extraordinary variety of English experiences along the way. Around a quarter of the Great West Way runs through Wiltshire. Along routes that brought druids to Stonehenge. Drovers to market. Pilgrims to Salisbury Cathedral.
With arts and culture at the heart of the Wiltshire experience, our festivals and events draw inspiration from stories down the centuries. Local food and drink feature dishes both modern and traditional, made from the finest home-grown produce. High street stores, specialist retailers and markets are joined by one of Europe's largest covered designer outlets and a popular shopping village.
Wiltshire is rolling green downs and ancient woodlands. Bustling market towns and picturesque villages. Contemporary luxury and picnics in the park. All this, yet only an hour and a half, or less, from London.
Wiltshire has been a special place for a very long time. So make 2020 the year you pay us a visit. There's always time for Wiltshire.
Download a digital copy of the Wiltshire 2020 Visitor Guide to find all the inspiration you need for an unforgettable trip.